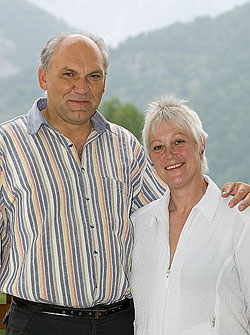 Hermann and Katharina Kurmes
Hermann is Transylvanian Saxon, born 1954 in Vulcan near Braşov. In 1977 he emigrated to Germany. He returned to his home-country together with his wife Katharina (*1952 in Siegen, Germany) and their children. After 25 years in the education business, they both decided to turn their back on teaching and founded their own travel agency. Carpathian Nature Tours focuses on sustainable and socially responsible tourism to support the conservation of the environment and to protect wildlife.
Hermann especially loves to show his guests the hidden secrets of the Transylvanian Saxon villages, which he has known since childhood. In 2004 they opened the guesthouse Villa Hermani, a house which is more than just an accommodation. The Villa Hermani is located in the mountain village of Magura, surrounded by Romania's two most impressive mountains: Bucegi and Piatra Craiului.
--> More info about CNTOURS
--> Go to Villa Hermani
--> Back to Startpage