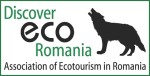 Nature conservation and tourism in the Romanian Carpathians
Carpathian Nature Tours (cntours) was born in 1999 in cooperation with the Carpathian Large Carnivore Project (
www.clcp.ro
). Together, a program for ecotourism in the National Park Piatra Craiului to maintain the countryside and to protect the great European predators wolve, bear and lynx was developed.
In 2000, the first association for ecotourism in Romania, "Plaiuri Zarneştene" was founded.
As the successor of this association the first national association for ecotourism "AER" (
www.eco-romania.ro
) was founded in 2003.
Together with the Romanian Institute for Wildlife Research (
www.icaswildlife.ro
), many projects such as the reintroduction of beavers and marmots are accompanied.
CNTOURS is now next to his commitment to nature protection and conservation the key tour operator in Romania for environment-friendly and close to nature tours and responsible travels. The particular focus is on nature and hiking holidays in the Carpathians and in Transylvania for families and small groups. Among other, rafting trips with assembled rafts of logs on the river Olt are carried out. All tours and sightseeing tours are accompanied by expert guides. The head office of cntours resides in the Villa Hermani in Magura (Brasov county) in the National Park Piatra Craiului.
More info about
ecotourism and nature tourism