2019-05-22
Price-list for rooms and bed and breakfast in guesthouse Villa Hermani in Magura in the carpathian mountains in Transylvania
Here you find the pricelist for rooms (rooms for rent, bed and breakfast place, guest room, room and lodging, room and board) and holiday home or holiday flat and accommodation facilities in guesthouse or boardinghouse in the pension Villa Hermani in Magura in the district of Brasov in Transylvania in Romania. Included in the price-list are the costs for guide and for excursions and participation to hiking tours in hiking group with a touring company. Additional to this you find the prices for transfer from airport in Bucharest or from the airport in Sibiu or from the railway station in Brasov in this list.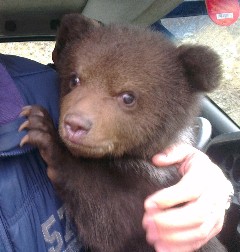 Price-list guesthouse Villa Hermani and CNTOURS:
Bed and breakfast per person in double bedroom:
32,-

€

Half-board with 3-course menu in double bedroom:
45,-

€

Additional charge single in double bedroom:
15,-

€

Camping in the garden per person:
5,-

€

Tour guide per day and group (1 to 4 persons):
70,-

€

Any further person: 5,-

€

Bear watching per person:
50,-

€

Children 10–15 yrs.: 40,-

€


The area is restricted for children under 10 years!
Infos bear watching
Pick-up from airport Bucharest or Sibiu:
- in passenger car for 1-3 persons:
100,-

€

- in minibus for up to 8 persons:
130,-

€

Transfer from railway station Braşov:
- in passenger car for 1-3 persons:
30,-

€

- in minibus for up to 8 persons:
45,-

€
Payment by credit card is not possible due to weak internet connection - sorry for the inconvenience!