GPS-Routes:

Here we present a number of tested tours around Măgura and Bran in Transylvania. The tours are saved as routes for GPS devices from Garmin in .gdb format. You can download the .gdb files, open them with the Garmin software "MapSource", and transfer them to your GPS device. As background for the pictures we used the free map of Romania from Openmtbmap.org, it is based on map data from OpenStreetMap, but optimized for cyclists and hikers.
If you have other interesting routes for the region, please send us an email !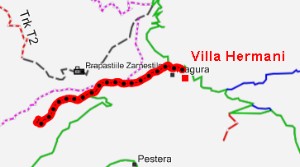 Tour 1: Walk from Villa Hermani to the monastery Pest
Distance: 3 km
Altidude difference: 80 m

A short walk along the village road of 3 km each way. This tour has been included only for testing purposes: you can already test at home if the download works, and if your GPS unit can read the route. Arrived in Magura, you can then try and see if the route works well in practice. It is impossible to get lost on this tour, even if your GPS does not work at all.
Download Tour 1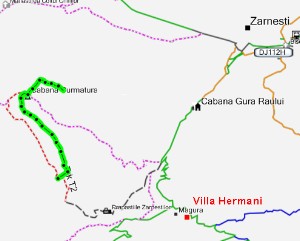 Tour 2: Climb to small Piatra Craiului
Distance: 3,8 km
Altitude difference: 800 m

The route starts at the bottom of the Prapastiile Zarnestilor gorge. Here you leave the road, and ascend through the forest along the sheepfold to the Curmatura hut. From there you can climb on to the top of small Piatra Craiului.
Download Tour 2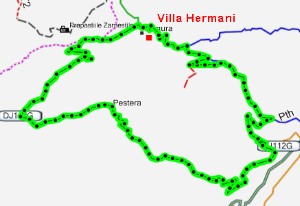 Tour 3: Round trip Magura-Pestera-Moeciu-Magura
Length of tour: 18 km
Altitude difference: 400 m

The tour leads from the Villa Hermani up to an altitude of about 1200 m, and then downwards through Pestera till Moeciu at a level of 800 m. Then it goes upwards again to the starting point. The tour can be covered by bike.
Download Tour 3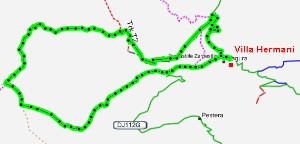 Tour 4: Round trip Magura-gorge-mountainside-Magura
Length of tour: 18 km
Altitude difference: 550 m

The tour leads from Villa Hermani down the valley to 900 m, and then first through the Prapastiile Zarnestilor gorge. Then it goes west to the mountainside of the Piatra Craiului massif up to an altitude of 1450 m. At this height, the path remains at a distance of 3 km. Then it goes back down to Villa Hermani. The tour is for hiking, but can also be done by advanced bike riders.
Download Tour 4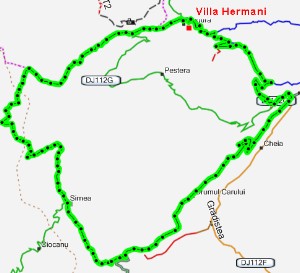 Tour 5: Round trip Magura-Sirnea-Moeciu-Magura
Length of tour: 32 km
Altitude difference: 650 m

The tour leads from Villa Hermani first to about 1450 m altitude, and then in a big curve steadily down through Sirnea to Moeciu at 800 m height. Then it goes back up to Magura. This tour is only for mountain bikers because of its length. But remember: the height differences are vast.
Download Tour 5
Guesthouse Magura Bran Carpathians
tours excursions Transylvania Romania
Accommodation Bran Moeciu
Accommodation Transylvania Bran/Magura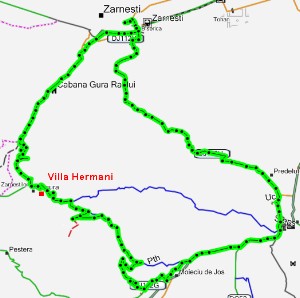 Tour 6: Round trip Magura-Moeciu-Bran-Zarnesti-Magura
Length of tour: 27 km
Altitude difference: 350 m

The tour leads from Villa Hermani traversing Magura and down to Moeciu, then it continues to Bran. If you survive the contact with Dracula in Bran Castle, you proceed via Predelut to Zarnesti and then back up to Magura. A mere bike ride. If you did not really survive the contact with Dracula, you will have to wait until darkness, and then fly back directly from Bran to Magura. From now on, you will not need your bike any more.
Download Tour 6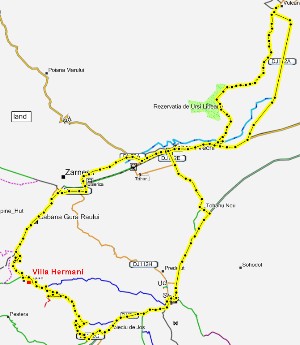 Tour 7: Round trip Magura-Zarnesti-bear reserve-Vulcan-


Tohanu Nou-Bran-Moeciu-Magura


Length of tour: 50 km
Altitude difference: 450 m


The tour leads from Villa Hermani directly down the valley to Zarnesti and from there to the bear reserve (15 km). It then goes on to Vulcan (21 km), and from there back towards Zarnesti. Then it turns left to Tohanu Nou, and leads to Bran and Moeciu back up to Magura. If, for whatever reason, you do not want to visit Bran ever more, you can of course go straight ahead in Zarnesti and return directly to Magura. This shortens the trip to a total of 42 km.

Download Tour 7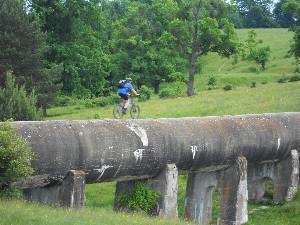 Please note:

When using the GPS device, please refer also to the ways and watch out if the route that is recommended by your GPS is really accessible and usable. Otherwise you're like the rider on the picture, who followed exactly his GPS device, and suddenly found himself on the main line to the hydroelectric power plant in Vulcan !
With judicious use of the GPS device you can avoid such smallish mistakes.